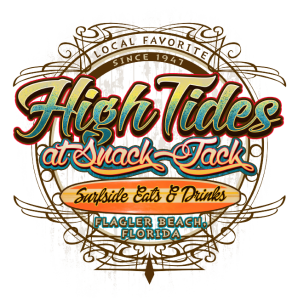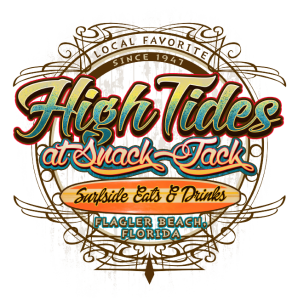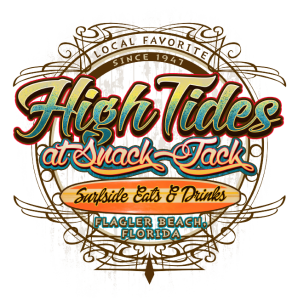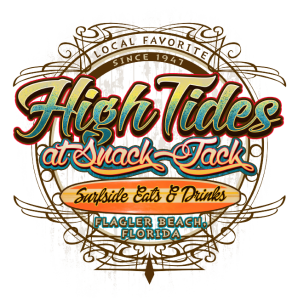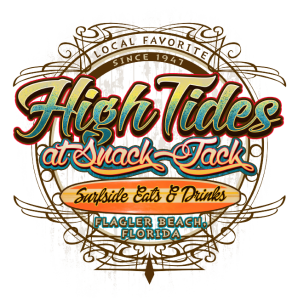 CONCH FRITTERS
Florida Conch at its best!
(6) 11.95
UNCOOL SHRIMP
Fried and Tossed in Mild, Flaming or Raging Sauce served with Barbecue, Sweet Chili Glaze or Tartar.
(6) 9.95
COCONUT FRIED SHRIMP
(6) 11.95
SPICED STEAMED SHRIMP
1/2 lb 12.95 • 1 lb 19.95
PORTUGUESE SARDINES
Wild Caught Sardines served in can with organic extra-virgin lemon olive oil
5.95
Fried Gator Tail
Served with Swamp Sauce
13.95
JALAPEÑO POPPERS
Crispy peppers stuffed with Cream Cheese served with ranch dressing
(6) 9.95
STICKS OF MOZZARELLA
(6) 8.95
CHICKEN LITTLES
Dunk'em in Mild, Flaming, Raging, Teriyaki, Barbecue or Sweet Chili Glaze
(5) 10.95
CHIPS & SALSA
Fresh salsa & tortilla chips
4.95
SHRIMP, TUNA, MAHI, REDFISH or SALMON TACOS*
Grilled, Blackened or Jerked with Cabbage and Cheese on two flour Tortillas served with Snack Jack's Spicy Sauce, Chips and Salsa
16.95
Fried Gator Tail*
Grilled, Fried and served with Cabbage and Cheese on two flour Tortillas with Swamp Sauce and Chips and Salsa
16.95
CHICKEN TACOS
Grilled, Blackened or Jerked with Cabbage and Cheese on two flour Tortillas served with Snack Jack's Spicy Sauce, Chips and Salsa
14.95
Fried Flounder
Fried and served with Cabbage and Cheese on two flour
Tortillas with Snack Jack's Spicy Sauce and Chips and Salsa
14.95
Substitute Gluten Free Tortilla – add 1.00
Sandwiches served with Pups and Choice of One of the Following:
Fries · Rings · Large Slaw · Steamed or Raw Broccoli · Sweet Potato Fries
Cucumber Dill Salad · Caesar Salad

Sandwich Add-Ons
Cheese, Jalapeños, Sautéed Mushrooms or Bacon to any Sandwich – (add 95¢ each)
Substitute Gluten Free Tortilla – (add $1.00)
WILD CAUGHT AHI TUNA or SALMON CLUB*
Grilled, Blackened or Jerked with Bacon, Cheddar, Lettuce, Tomato on Texas Toast with Bleu Cheese
16.95
MAHI or REDFISH REUBEN
Grilled, Blackened or Jerked On Rye Toast with Slaw, Swiss & 1000 Island Dressing
16.95
FRIED GATOR TAIL PO BOY
Served with Swamp Sauce
16.95
FRIED FLOUNDER REUBEN
On Rye Toast with Slaw, Swiss & 1000 Island Dressing
15.95
WILD CAUGHT AHI TUNA SANDWICH*
Grilled, Blackened or Jerked served with Honey Wasabi or Tarter Sauce
16.95
MAHI or REDFISH FILET SANDWICH
Grilled, Blackened or Jerked
16.95
FRIED FLOUNDER FILET SANDWICH
14.95
SHRIMP CAESAR WRAP
Fried, Grilled, Blackened or Jerked and served with Spicy Rémoulade
14.95
CRAB CAKE SANDWICH
Served with Tartar Sauce or Spicy Rémoulade
14.95
MUSHROOM SWISS BURGER
14.95
PATTY MELT
With Swiss Cheese and Grilled Onions on Marbled Rye
13.95
CHICKEN PHILLY
With Grilled Onions and Provolone on a Hoagie Roll
14.95
FLAGLER CHEESESTEAK
With Grilled Onions and Provolone on a Hoagie Roll
14.95
CHICKEN CLUB
Fried, Grilled, Blackened or Jerked with Bacon, Provolone, Lettuce and Tomato on Texas Toast served with Ranch
14.95
ORGANIC BLACK BEAN VEGGIE BURGER
13.95
CHICKEN BREAST SANDWICH
Fried, Grilled, Blackened or Jerked
13.95
BOOGIE BURGER
(add Cheese for 95¢)
Hand Tossed 8 oz. Pub Burger with Lettuce, Tomato and Onion
13.95
SURF DOG
Served with Onion & Relish
9.95
Dinners served with Pups, Slaw and Choice of One of the Following:
Fries · Rings · Large Slaw · Steamed or Raw Broccoli · Sweet Potato Fries
Cucumber Dill Salad · Caesar Salad
HIGH TIDES FRIED COMBO PLATTER
A Power Meal! Includes Fish, Shrimp, Scallops and Crab Cake
23.95
NAME YOUR OWN FRIED PLATTER
Fried Fish, Shrimp, Scallops, Crab Cake and Clam Strips
24.95
MAHI or REDFISH
Grilled, Blackened or Jerk spiced
Large 23.95 • Small 15.95
FRIED FLOUNDER DINNER
Fried Flounder
Large 20.95 • Small 14.95
CRAB CAKES
Served with Tarter Sauce or Spicy Rémoulade
16.95
Fried Fish and Shrimp Combo
21.95
SWEET FRIED SCALLOPS
One heaping platter of battered scallops, enough to share!
24.95
COCONUT FRIED SHRIMP
Coconut dusted shrimp with Raspberry Pepper Sauce
(12) 24.95 • (8) 18.95
CLAM STRIPS
A Satisfying "Ole Classic"
13.95
CRAB LEGS
Alaskan Snow Crab legs served with drawn butter. Feast on a small or large portion
2 lbs • 1 lb
(market price)
FRENCH FRIES
Large 5.45 • Small 3.45
HUSH PUPPIES
(6) 3.95 • (2) 1.75
ONION RINGS
Large 8.45 • Small 4.95
Steamed or Raw Broccoli
5.95
Seasonal CUCUMBER DILL SALAD
When available
6.45
CELERY, CARROTS & BLUE CHEESE
5.95
CELERY & BLUE CHEESE
Large 5.95
SLAW
(6 oz) 4.95 • (2 oz) 1.75
CHEESE
Provolone, Mild Cheddar or Swiss
.95
EXTRA SAUCES
Blue Cheese or Ranch
.50
SHRIMP, TUNA,  MAHI, REDFISH or SALMON*
Grilled, Blackened or Jerked
16.95
CHICKEN CAESAR SALAD
Grilled, Blackened or Jerked 
13.95
Kids 12 and Under Only. Served with Organic Carrots or Fries and Cookie
CLUB SODA
LEMONADE
ORANGE JUICE
APPLE JUICE
CRANBERRY JUICE
BOTTLED WATER
COCONUT WATER
ICED TEA
HOT TEA
COFFEE
MILK
CHOCOLATE MILK
BOTTLED BEER
DOMESTIC BOTTLES
Budweiser
Bud Light
Coors Light
Michelob Ultra
Miller Lite
Yuengling
St Pauli Girl NA
Bottle 4.00 • Bucket 15.00
PBR
Bottle 3.00 • Bucket 11.00
CRAFT
Angry Orchard
Dog Fish Head (60 Min. IPA)
Bottle 5.50 • Bucket 21.00
PREMIUM BOTTLES
Blue Moon
Corona
Corona Light
Guinness Stout
Pacifico
Red Stripe
Stella Artois
Bottle 5.00 • Bucket 19.00
DRAFT BEER
DOMESTIC
Amber Bock
Bud Light
Michelob Ultra
Glass 3.75 • Pitcher 14.00
PREMIUM
Shock Top
Goose Island IPA
Glass 5.00 • Pitcher 19.00
LOCAL
Ponce Inlet Blonde Ale
Lawnchair IPA
Glass 5.00 • Pitcher 19.00
COOLERS
MIKE'S HARD LEMONADE
Bottle 5.50 • Bucket 21.00
BUD LIGHT SELTZER
Mango or Black Cherry
5.00
TROPICAL RETREAT
7.00
SAKE MARY
Zing Zang Spicy Bloody Mary Mix & Sake
7.00
MIMOSA
Fresh Orange Juice & Champagne
7.00
WINE
WINE MINI BOTTLES
Cabernet Sauvignon
Merlot
Chardonnay
White Zinfandel
Bottle 5.00 • Bucket 19.00
RED OR WHITE
Cabernet Sauvignon
Pinot Noir
Chardonnay
Moscato
Pinot Grigio
Sauvignon Blanc
Glass 8.00 • Bottle 24.00

SANGRIA
Glass 7.00 • Pitcher 24.00
CHAMPAGNE SPLITS
Bottle 6.50 • Bucket 25.00
FROZEN
(Wine Based)
STRAWBERRY DAIQUIRI
10.00
MANGO DAIQUIRI
10.00
PIñA COLADA
10.00
MARGARITA
10.00
VIRGIN DAIQUIRI
7.00
*Warning: Consuming raw or undercooked meats, poultry, seafood, shellfish or eggs may increase the risk of food borne related illness.
These should be eaten fully cooked, especially if you have certain medical conditions.
Your food is cooked to order. During peak times it could be up to 50 minutes to get your food once your order is placed. Thanks for your patience.
Prices may vary.